Dos and Don'ts of Kids' Oral Hygiene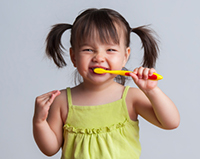 There are plenty of reasons why you need to help your child maintain an oral hygiene routine. Making sure your kid brushed their teeth in the morning and before going to bed can be a struggle. Then, there's the damage that junk food, sugary treats, and soda cause to teeth.

While educating them about dental hygiene is extremely important, so are dental checkups at least twice a year. Visit Tiny Teeth Pediatric Dentistry and have a chat with Dr. Healy or Dr. Martin about the status of your kid's teeth and what you can do to prevent their baby teeth from falling off too early.

Below are a couple of dos and don'ts of kids' oral hygiene:


Dos
| | |
| --- | --- |
| • | Do Make Brushing Playful: ADA recommends brushing your teeth for at least 2 minutes, which feels like 2 hours to kids. Why not create a song for your child that lasts two minutes or a reward like letting them choose the next day's dinner option? |
| • | Do Use a Toothbrush Designed for Kids: Buy toothbrushes that have cartoon characters on them. Get a complete kit with all the necessary oral hygiene items to encourage your kid to follow the routine. |
| • | Do Introduce Your Kid to Healthy Snacking to Avoid Tooth Decay: From fruits slices to crackers with cheese and nuts, these are some of the best snacks that keep teeth healthy and add more nutrition to your kid's diet. |
Don'ts
| | |
| --- | --- |
| • | Don't Use Threats to Push Your Kid to Brush Their Teeth: The more you enforce the oral hygiene routine, the less effort they will put in. So, make it a teaching moment and praise them for even half-hearted attempts. |
| • | Don't Forget Teaching by Example: Kids learn from their parents. Make brushing an excellent teaching moment and show your kids how it's done properly. |
| • | Don't Stop Them from Eating Candy: The more you restrict them from eating what they want, the more they will rebel. So, make healthy versions of sweet snacks with natural toppings. |

So, what are you waiting for? Head over to the nearest general store, and get a fun oral hygiene kit and start writing a brushing song. As for the dental checkup, visit Tiny Teeth Pediatric Dentistry and meet with our professional dentist Dr. Healy or Dr. Martin. To schedule an appointment, call at (316) 202-9629.