How Can You Make Oral Hygiene for Kids A Bit More Fun?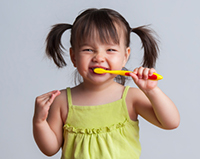 Making dental health fun is imperative in establishing good oral hygiene habits in children. Start as soon as your child gets his or her first tooth and introduce brushing twice daily. Treating dental health as something to be enjoyed, a way to have fun, instead of a chore is important in developing your child's attitude toward dental health. So, let's look at how to have fun while brushing and flossing.


Brushing Is Fun!

As parents, there are lots of ways to make oral hygiene fun instead of a dreaded chore time. Start by looking at the tools you're presenting your child with. Are they inviting and fun? Are they easy to hold? An electric toothbrush is a great option, go for one that plays music for a full two minutes. Or how about one that has lights and sings! Why not make the daily ritual part of a game? Find a favorite song to play while everyone is brushing and use that time together to count your teeth as you brush. There are so many different ways to make your child's experience a happy one.

Encourage your child when he or she comes home from the dentist with a clean mouth. Maybe start keeping a Dental Report Card and compare visits. Does your child have new teeth coming in? Write them down on the Report Card. Did he or she lose a tooth? Again, chart it on the Report Card. Maybe even take photos and make your own dental scrapbook!

The biggest key in keeping your dental visits happy and stress free is attitude. Remind your child that our staff is there to help them and we're your friends. We are all in this journey together and we are looking forward to working with you to make your child's experience at our office a fun one. Give us a call soon, we can't wait to see your smile!